---
---
GAMBIT CHESS STUDIO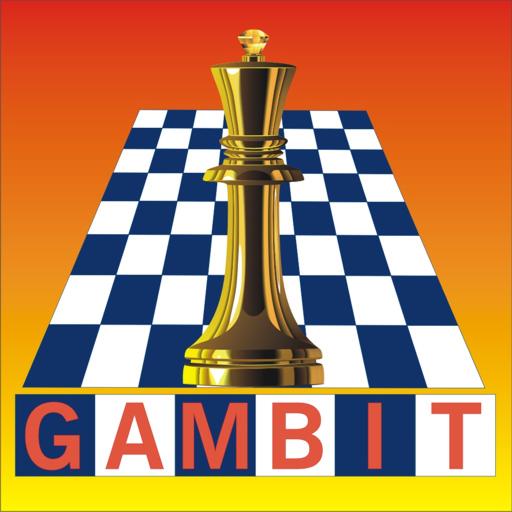 Latest news: Version 1.0.4 of Gambit Chess Studio released
The new version fixes the following problem:
• In rare circumstances, users could temporarily lose access to the Book Store and their downloaded books
It's advisable to keep the app up to date because minor bug fixes are incorporated into each release, so please download the update.
Gambit are proud to announce the launch of Gambit Chess Studio, a revolutionary new app allowing you to read Gambit chess books on the iPad and iPad Mini, and play over all the moves using an on-screen board. It may be downloaded free of charge from the App Store, together with a free sample allowing you to try the app. Books are available as in-app purchases within Gambit Chess Studio.
Take a look at our dedicated Gambit Chess Studio page, and see which titles are currently available for use with the app on our app books page.
NEW GAMBIT CHESS BOOKS
This website is updated regularly and is for information only. Gambit does not run a direct sales service.
Please contact one of the many chess bookselling specialists worldwide that stock the full range of Gambit books.
---
Now available worldwide

A good opening repertoire need not require an enormous amount of study to be highly effective. A cunning choice of lines and move-orders can steer the game to positions that we like and deny the opponent his preferred strategies.

In this book, highly experienced chess opening writer Graham Burgess presents a repertoire based on 1 d4 and Nf3 with precisely those aims. Black's possibilities for counterplay - and sharp gambit play - are kept to a minimum. The main cornerstones of the repertoire are carefully chosen Queen's Gambit lines, the Torre Attack (vs ...e6), and a variety of fianchetto options against the King's Indian and related set-ups. White's position is kept highly flexible, with many possible transpositions to a wide variety of systems that the reader can use to extend and vary the repertoire. The book features a wealth of new ideas and original analysis.

---

Now available worldwide.

This chess puzzle super-challenge contains 100 fun positions to solve, ranging from encouragingly easy to mind-numbingly hard. Using an innovative format, every puzzle is preceded by an instructive example, illustrating an important pattern.

Each puzzle has been graded to suit a wide range of chess abilities. Beginners or younger readers will enjoy reading the basic warm-up exercises. The more experienced can wrestle with some classic puzzles, whilst at the same time learning of typical themes and killer concepts.

The final challenging chapters - Mission Impossible - are guaranteed to torment and inspire the most talented of future champions!

---

Now available worldwide.

Sick of defending with Black? Never found a reliable way to fight for the initiative when White plays 1 d4?

Allow Grandmaster Aveskulov to assist. He has put together a sound but ultra-aggressive repertoire based on gambits that have proved their worth in grandmaster play over many years. The Benko Gambit is dreaded by many 1 d4 players. Black gets very active piece-play, and even if White reaches a pawn-up endgame, he is often shocked to find he is worse due to Black's intense positional pressure! If White avoids the Benko, that's when we hit him with the Blumenfeld, sacrificing a pawn to set up a strong pawn-centre and attacking chances.

Aveskulov examines all of White's options and move-orders after 1 d4 Nf6, and shows an aggressive reply to each of them. He is never willing to take existing theory on faith, and throughout the book presents an extraordinary wealth of new analysis and ideas. He also explains typical plans in depth, so you will always know how to turn the screw once you have your opponent on the run.

---

Now available worldwide.

Such has been the acclaim for John Watson's ground-breaking works on modern chess strategy and his insightful opening books, that it is only natural that he now presents a strategic opening repertoire.

It is the chess-player's holy grail: a flexible repertoire that gives opponents real problems but doesn't require masses of memorization or continual study of ever-changing grandmaster theory. While this book can't quite promise all of that, Watson offers an intriguing selection of lines that give vast scope for over-the-board creativity and should never lead to a dull draw.

The repertoire is based on 1 d4 and 2 c4, following up with methodical play in the centre. Watson uses his vast opening knowledge to pick cunning move-orders and poisonous sequences that will force opponents to think for themselves, providing a true test of chess understanding. Throughout, he discusses strategies for both sides, so readers will be fully ready to pounce on any inaccuracies, and have all the tools to decide on the most appropriate plans for White.

---

Now available worldwide.

This new expanded edition of the award-winning Vishy Anand: My Best Games of Chess (New Edition) features 30 extra games from the period of Anand's greatest successes.

Anand has been one of the world's top players for more than two decades, and cemented his place in the all-time hall of fame by winning the unified World Championship in 2007, and successfully defending his title against Kramnik and Topalov. But it's not just his results that make Anand special. His style of play leads to highly spectacular games, and his speed of thought is the stuff of legends. He is also a great explainer of ideas, as his annotations for this book demonstrate. Anand is renowned as 'Mr Nice Guy', popular with both the public and his fellow supergrandmasters.

---

Now available worldwide.

Playing as Black in a game of chess can be difficult. Do you simply try to neutralize White's initiative, or go all-out to complicate the game? Either way, there are many pitfalls, and a lot of study may be needed.

In this book, Grandmaster Eingorn shows that it is possible both to play solidly, and to take White out of his comfort zone. He recommends ideas and move-orders that are a little off the beaten track, but which he has very carefully worked out over many years of his own practice. The repertoire, based on playing 1...e6, is strikingly creative and will appeal to those who want a stress-free life as Black. You will get every chance to demonstrate your chess skills, and are very unlikely to be blown off the board by a sharp prepared line. All you need is a flexible approach, and a willingness to try out new structures and ideas. Eingorn's subtle move-orders are particularly effective if White refuses to pick up the gauntlet, as Black can then use his delay in playing ...Nf6 to good effect and take the fight directly to his opponent.

---

Now available worldwide.

The three-times World Chess Solving Champion distils the most useful middlegame concepts and knowledge into 100 lessons that everyone can understand.

Following on from his successful Understanding Chess Endgames, John Nunn turns his attention to the middlegame - the phase of the chess battle where most games are decided, yet the one that has received the least systematic treatment from chess writers. With the outstanding clarity for which he is famous, Nunn breaks down complex problems into bite-sized pieces.

In the case of attacking play, we are shown how to decide where to attack, and the specific methods that can be used to pursue the enemy king. Positional play is described in terms of the major structural issues, and how the pieces work around and with the pawns. Nunn explains how to assess when certain pieces are better than others, and how we can make use of this understanding at the board. Readers will never be short of a plan, whatever type of position arises.

Each lesson features two inspiring examples from modern chess, annotated honestly and with a keen focus on the main instructive points. Both sides' ideas are emphasized, so we get a clear picture of the ways to disrupt typical plans as well as how to form them.

---

Now available worldwide.

Solving tactical puzzles is one of the most effective ways to improve your chess. This convenient book provides 300 exercises, with instructive points highlighted in the solutions.

There is something here for everyone. The puzzles in the first two chapters are based on a clear-cut tactic or checkmate, such as those explained in Gambit's best-sellers How to Beat Your Dad at Chess and Chess Tactics for Kids. The endgame challenges highlight tactics and principles in action. In practice it is vital to defend resiliently and seek counterattacking chances - there is an innovative chapter on these rarely-covered themes as well as puzzles where the reader must decide how to punch home an attack.

---

Now available worldwide.

For chess-players of all ages and abilities, it is vital to get off to a good start. This simple guide provides all the tips and ideas needed to play purposefully from move one. That's because these 50 Mighty Openings are the very ones used by chess masters and grandmasters to outwit opponents time and again.

This book teaches the names and starting moves of all the main chess openings, and explains the basic ideas. Beginners will learn how to position their pieces for maximum impact. More experienced players will discover some remarkable tactical and strategic themes that are vital for chess mastery.

Chess Openings for Kids makes learning the chess openings fun. Playing these powerful openings helps develop an understanding of how the pieces work together. Soon you will be able to play strong moves in any opening position, and approach every game with confidence - and success.

---